Bergbau in Tirol, 2022
Title translation: Mining in Tyrol
Authors: Georg Neuhauser, Tobias Pamer, Andreas Maier, Armin Torggler
Publishing houses: Tyrolia, Athesia
Museum shop: 48 €

Since prehistoric times, people have been mining in the area of today's European region Tyrol-South Tyrol-Trentino. While the main interest in the late Bronze Age and early Iron Age was copper, the focus shifted to the extraction of silver from the High Middle Ages onwards. Tyrol developed into one of Europe's leading mining centres and the profits from the ore mines and the salt works in Hall financed political advancements, wars and magnificent buildings. 

This book gives a historical overview of ore and salt mining in North, East and South Tyrol as well as in Trentino. Technical and legal issues are covered as well as migration, environment, religion, medicine and the supply of wood and food. It becomes clear that Tyrolean mining history extends far beyond the area of today's European region. 
(available in German)
Schneeberg+Ridnaun. Bergbau, Schicksale, Visionen, 2022
Title translation: Schneeberg+Ridnaun. Mining, destinies, visions
Author: Lenz Koppelstätter
Editors: Christian Terzer, Armin Torggler
Publishing house: Athesia
Museum shop: 20 €

Darkness, constant humidity, cold, snow. It was a hard world back then, up there at the mines on the Schneeberg. And down in the valley, in the ore processing plant in Maiern? Constant thumping and roaring, dust. Huge machines crushed the ore. The pungent smell of chemicals stung in the noses.

Bestselling author Lenz Koppelstätter and other writers bring the people and fates of the past to life with their stories and reports. A look behind the scenes of the South Tyrolean Mining Museum.
(available in German and Italian)
Bergbaulandschaft Tauferer Ahrntal I - Die Schriftquellen, 2020
Title translation: Mining Landscape Tauferer Ahrntal I - The written sources
Authors: Armin Torggler, Kathrin Geier
Editors: Christian Terzer, Armin Torggler
Publishing house: A. Weger
Museum shop: 25 €

Innumerable, long-forgotten galleries run through the mining landscape in the South Tyrolean Ahrntal valley. Many adit entrances have been buried over the centuries and are hidden in the forests. This first volume of publications as part of the eponymous research project, which has set itself the goal of following the traces, deals with the written sources and the laborious search for clues in archives.
(available in German)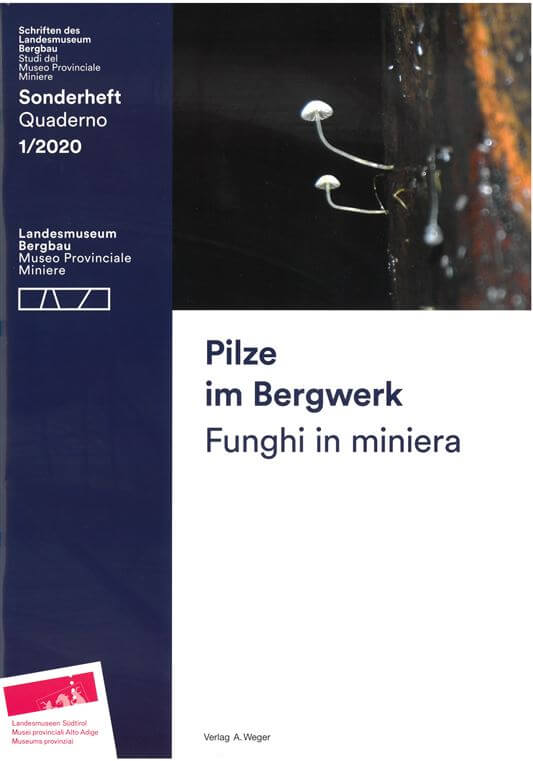 Pilze im Bergwerk, 2020
Title translation: Fungi in the mine
Editors: Christian Terzer, Armin Torggler
Publishing house: A. Weger
Museum shop: 10 €

The first special issue in the series of publications by the South Tyrol Mining Museum is devoted to a scientific topic from the field of microbiology and mycology. Werner Amrain went in search of wood-decomposing fungi in the Schneeberg mine. The present essay summarizes the results of the investigation. The accompanying text is provided by Armin Torggler, who puts the galleries in question into a historical context and thus shows interested readers the main features of the development of the Schneeberg mine. 
(available in bilingual German-Italian)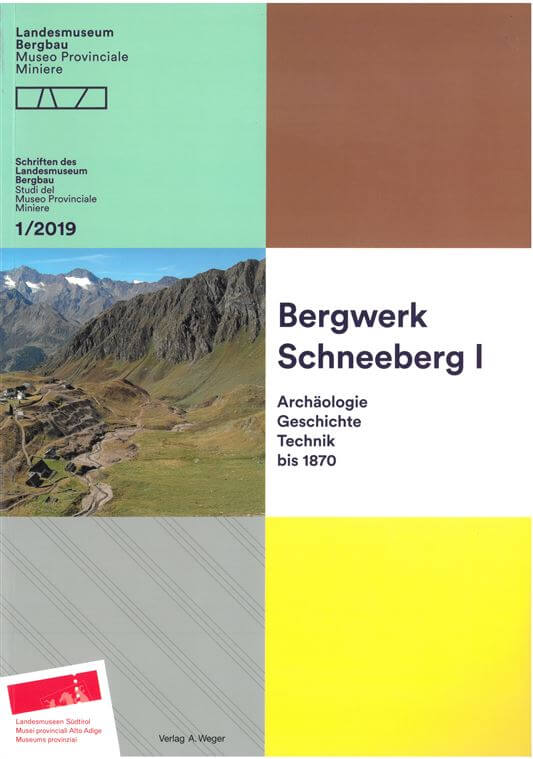 Schneeberg I. Archäologie-Geschichte-Technik bis 1870, 2019
Title translation:
Schneeberg I. Archeology-History-Technology until 1870
Editors: Christian Terzer, Armin Torggler
Publishing House: A.Weger
Museum shop: 20 €
The first volume of the series of publications by the South Tyrol Mining Museum is dedicated to the ore area on the Schneeberg in the rearmost Passeier valley. The mining area on the Schneeberg occupies a special position within the South Tyrolean mining landscape in several respects. Nowhere else are the effects of mining on the landscape shown so drastically. 700 years of mining have permanently reshaped the former natural landscape and transformed it into a "cultural landscape" created by human hands.
The present volume approaches the topic of the Schneeberg from different perspectives in various fields of science. In six articles, eight authors shed light on the older history of this largest South Tyrolean mine from its beginnings in the late Middle Ages to 1870.
(available in German)
PDF Download
Silber und Blei, 2012
Title translation: Silver and Lead
Author: Harald Kofler
Publishing house: Berenkamp
Museum shop: 15 €

In the 16th century, Tyrol experienced its great silver rush. During this time, several thousands of miners dug for silver and other precious metals in the mountains of the Tyrolean Alps north and south of the Brenner Pass. Some became immeasurably rich through the mountains' blessing, many remained poor as a beggar. The lead and silver mines of the Berggericht Gossensaß-Sterzing were of particular importance. The present volume allows the readers to immerse themselves in the long-forgotten time in which the pounding of mountain hammers and the creaking of fully loaded chests sounded from the depths of the mountains. 
(available in German)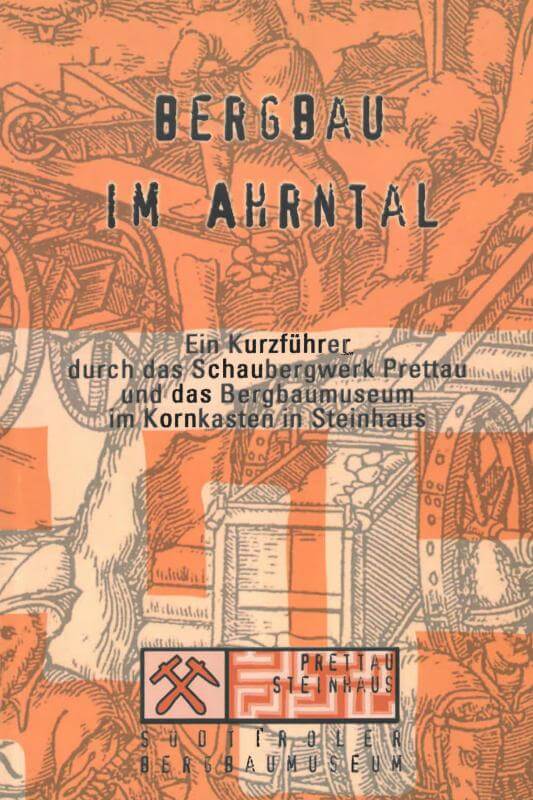 Bergbau im Ahrntal, 2003
Title translation: Mining in the Ahrntal Valley
Authors: Richard Furggler, Hans Peter Lercher, Albin Voppichler
Publishing house: Progra
Museum shop: 10 €

Short guide through the Prettau mine and the mining museum in the grain store of Steinhaus. 
(available in German and Italian)
Das Kupferbergwerk von Prettau, 1991
Title translation: The Prettau copper mine
Authors: Rudolf Tasser, Norbert Scantamburlo
Publishing house: Athesia
Museum shop: 10 €

On the one hand, this book aims to provide a compact and easy-to-read summary of the incredibly richly documented history of the Prettau copper mine and, on the other hand, to follow the traces that mining has left in Prettau and throughout the Ahrntal valley.
(available in German)